This the third HMS Barham was one of five Queen Elizabeth Class battleships.

Built by John Brown Shipyard on the Clyde, laid down in Feb-1913, launched 31-Dec-1914 and completed in Oct-1915.

She joined the Grand Fleet in October 1915.

Was flagship of the 5th Battle Squadron at Jutland, where she received six hits. After repair rejoined the Grand Fleet for the rest of WW1.

Joined the Atlantic Fleet 1920-24, then to the Mediterranean until 1927. Refit followed from 1927-28. Then back to the Mediterranean until 1929. On to the Atlantic Fleet 1929-30, followed by a major refit 1930-33. Home Fleet 1933-35, back to the Mediterranean Fleet 1935-39.

Took part in the King George V Silver Jubilee Fleet Review 16-Jul-1935.

Returned to the Home Fleet at the start of WW2. Damaged by torpedo fired from a U-boat off the Hebrides 28-Dec-1939. Repaired at Liverpool, and operational again April-1940. On to support the unsuccessful Dakar landings 24-Sep-1940. In action at the Battle of Matapan 28-Mar-1941, and at the bombardment of Tripoli 28-Mar-1941.

Operations in support of Crete evacuation May-1941 and damaged by bombs. After temporary repairs went to Durban for permanent repair. Rejoined the Fleet July 1941.

Torpedoed by U-331 off Cyrenaica 25-Nov-1941. Three torpedoes struck her port side between the funnel and Y turret, after which she quickly listed and started to turn over. As she turned on her beam ends, the after 15in magazine exploded, completely destroying the ship, with heavy loss of life. The film of the ship rolling and exploding is frequently shown in modern film, video and DVD clips.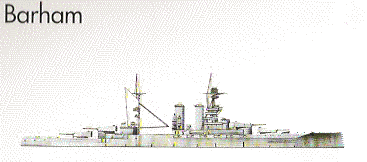 Won the Battle Honours: Jutland 1916, Matapan 1941, Crete 1941 and Mediterranean 1941.