This the seventh ship to carry the name HMS Centurion was the name ship of a Class of two battleships.

Built at Portsmouth Dockyard, laid down Mar-1890, launched 03-Aug-1892 and completed in Feb-1894.

Her initial deployment was to the China station as Flagship from 1894-1901.

In 1900 she was involved in the Boxer Rebellion in China and like her sister ship Barfleur, landed shore parties for operations against the boxers. During this, her flag captain was a Captain Jellico, later Admiral of the Fleet Earl Jellico. While Commander of the Barfleur was the future Admiral of the Fleet Earl Beatty.

On her return to home waters she underwent a two year reconstruction at Portsmouth. Then back out to the China Station again in 1903-05.

Returning home she went into Reserve before paying off in 1901, and finally sold 12-Jul-1910.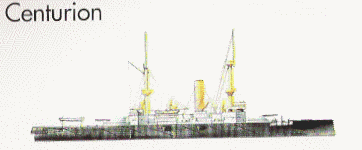 Won the Battle Honour: China 1900.