This the fifth ship to carry the name HMS Ardent was a torpedo boat destroyer.
Built by Thornycroft in Chiswick, laid down Dec-1893, launched 16-Oct-1894 and completed Apr-1895.
On completion went to the Mediterranean as tender to the flagship HMS Ramillies, with the idea of being used among other things, for the training of as many as possible of the stokers of the Fleet in the management of water tube boilers, and was manned by 45 officers and men.
Remained there until sold 10-Oct-1911 for breaking up.
The ships motto was "Death rather than disgrace".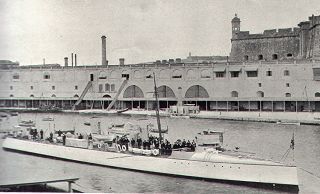 At Malta
Picture credit (Royal Navy)