This the fourth HMS Invincible was an ironclad battleship, which could be powered by either sail or steam. She built by Napier on the Clyde, launched 29-May-1869.

After a short period at Hull, she went to the Mediterranean in 1872.
Then except for a refit and replacement of machinery, she continued to serve in the Mediterranean until 1886.

She saw action in the Egyptian War of 1882 bombarding forts ashore at Meks and landing a Naval brigade.

Was guardship at Southampton from 1886 to 1893, after which she was used as a depot ship.

She was renamed the Training Ship HMS Erebus in Apr-1904, then renamed again as Fisgard II in Jan-1906.

She sank off Portland Bill while under tow in 17-Sep-1914.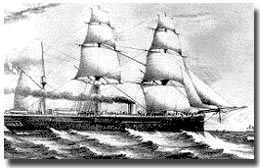 Won the Battle Honour: Alexandria 1882.
Other HMS Invincible
- 1st HMS Invincible
- 2nd HMS Invincible
- 3rd HMS Invincible
- 4th HMS Invincible
- 5th HMS Invincible
- 6th HMS Invincible
- Audacious Class (1870) BB
- Specifications
- Ships
- Plans/Schematics
- Pictures
- Full Battle Honours
Outside Links
- Official Website
- Associated Sites
- Related Sites